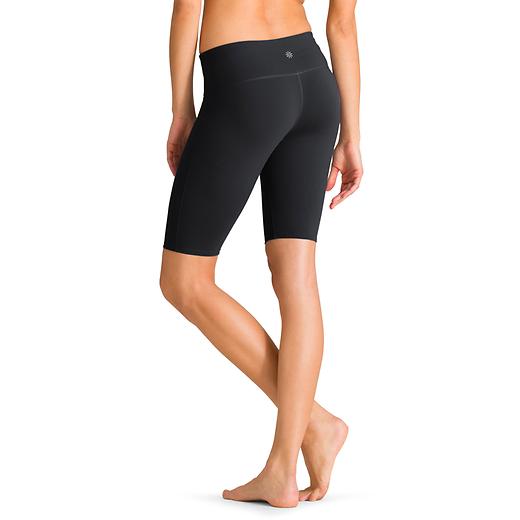 $39
I am always on the lookout for knee length fitted shorts. A lot of the compression shorts are not long enough on my legs, so I go for capris or knickers. I just got my new
Athleta
catalog and they had these lovely long fitted shorts.
The fabric is soft like a yoga pant. They have an internal pocket and no drawstring. The other running shorts I have from Athleta have an external zipper pocket that make them great for keys and race fuel or phones. I think these jammers will be great for at the gym, when I don't have to carry anything with me. I have 3 pair of Chatarunga knickers and I love them. But when I go for a long run, I am always rolling them up.
I like the coverage of capris for sure, but I appreciate the leg freedom that comes with shorts. I don't wear short running shorts because of the chafe factor. That is never pleasant and can be easily avoided with longer shorts.
Another thing that I liked about these jammer shorts is that they come in TALL sizes. The inseam on the regular size is 9.5 inches. The tall inseam is 11.5 inches. I ordered one of each to compare fit. Then I plan on trading for a second pair of the length I prefer. Because there is no drawstring on this short, I go with the size that fits my waist. In the knicker length, I order a Small and it stretches enough to fit my hips. I tried the medium and they were too loose in the waist.
Athleta is a GAP company. I have loved their workout clothes for about 3 years now. I also have a few tankini tops from them. They have a lot of cute stuff. Some is spendy and some seems to be comparable to what you spend at Sports Authority. The quality is good and they do free returns and free shipping on orders over $50. You can also try out the clothes, like sweat in them, and return the items if you don't end up liking the fit. Just save tags, bags, paperwork. I have never had to do that because everything so far has been wonderful.